Desta PK 328 Compensating book stacker
1998
to be connected to three knife trimmers, Digital set-up, aut. function control, microprocessor operated,Max size 380 x 310 mm, min. size 145 x 85 mm, thickness 3 - 80 mm, infeed/esxit height 850 - 950 mm Speed max. 10.000 t/h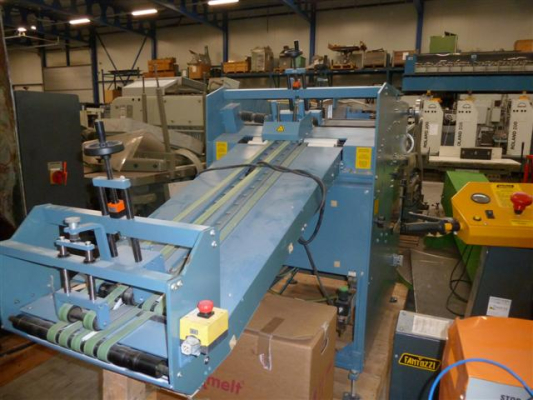 Horizon BQ 440
1996
Four clamp perfect binder, spine gluing, hotmelt, milling section with extraction, milling depth: adjustable, min. book size 75x75mm, max. book size 320x320mm, binding thickness 1-40mm, Air cover feeder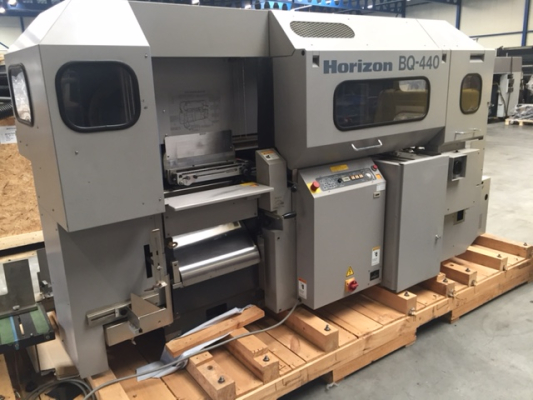 Horizon BQ 470 PUR
2015
Cycle Speed: 1.350 cycles/hr, Max Book Size: 31 x 31 cm, Min Book Size: 14,5 x 10,5 cm, Book Thickness: Max 65 mm, Fully automated set-up through the intuitive icon based LCD touchscreen. Customer replaceable glue tank unit for both EVA hotmelt and PUR hotmelt adhesives to meet varying customer requirements. Simplified and accurate changeover to produce professionally finished books. Equipped with two large application rollers for strong, high-quality binds and a separate side glue tank for added flexibility.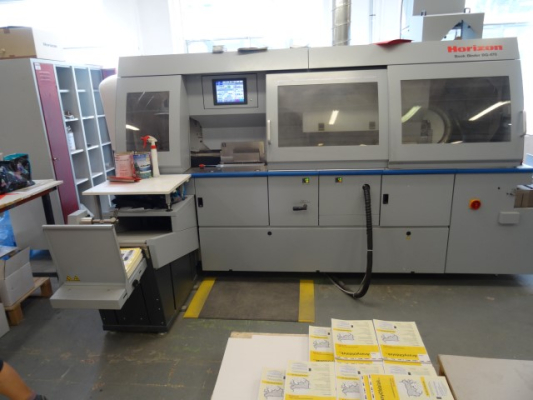 Technograf ANT 250 Pur
2010
Compact and semi-automatic one-clamp perfect binding machine for short and medium runs, The new ANT 250 is completely controlled by PLC and is equipped with an innovative PUR / Hot-Melt gluing system, The new technology and the special design ensure the maximum safety for the operator and the highest binding quality. Book size min: 100 x 100 mm (w x h), max: 350 x 420 mm (w x h), Thickness min: 1 mm, max: 50 mm (milled blocks), max: 80 mm (sewn blocks), Cycle speed approx. 250 Cycles/hour, Electrical requirements approx. 3 kW, Floor space 2.500 mm x 1.105 mm (l x w).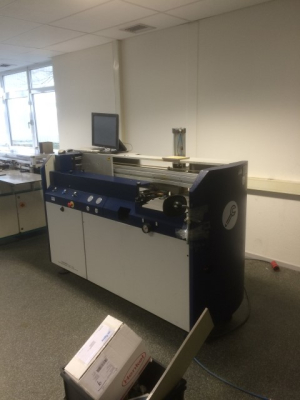 Wohlenberg City E 6000
2011
Handfeeding station, 24 stations gathering machine with Venturi system for vacuum air, 1 x pump for blowing air, model Sprinter E, Reject unit, Criss cross delivery, Vibrating element, Transfer into the binder by 90 degree turn to the left, 15 clamps (19"), Milling and roughening station, Hotmelt spine glueing with integrated premelter, Hotmelt side glueing with integrated premelter, Pile cover feeder, single pressing station, Max book size 300x440 mm Speed: 6000 cy/h, Laydown, +/- 20 meters conveyor system , T-junction (escape delivery) to three knife trimmer or roller belt, W-TrimTec 60i with belt delivery, excluding vacuumpumps, machine was connected to central air supply, mach nr 134, year 2011, Machine is cleaned on stock